October Meeting:
The American Chestnut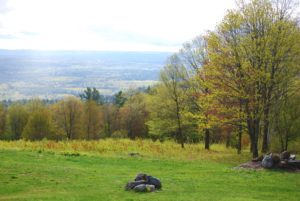 Presented by Lois & Denis Melican, American Chestnut Foundation
Wednesday, October 17, 2018 – 7 pm
Tolman Auditorium, Springfield Science Museum
People will learn about the restoration of American Chestnut trees, a former keystone species, after an accidentally imported pathogen decimated nearly 4 billion chestnuts between 1904 and 1950, when the USDA determined that chestnut trees were functionally extinct. (unable to reproduce on their own) For the past 35 years The American Chestnut Foundation (TACF) has been trying to restore this tree back to its original habitat through a back cross breeding program. I'll give a little chestnut history on why this tree was so important, then talk about the efforts of the foundation and its 16 state chapters and especially what is going on here in Massachusetts and Rhode Island. People can get involved and work with us, or just visit an orchard or other interesting chestnut site. TACF has many opportunities for "citizen science."
Lois & Denis Melican are retired from the Massachusetts Department of Conservation and Recreation, Division of State Parks, Lois as a Regional Interpretive Coordinator and Denis as a Park Supervisor, with most of his time at Moore State Park in Paxton, home of the largest rhododendron collection in New England, along with 94' of waterfalls. Lois graduated from Becker College and Denis from Quinsigamond College. Lois attended The New England School of Gardening at Tower Hill Botanic Garden and Clark University. They have attended the Arnold Arboretum's Institute for Cultural and Historic Landscape Studies and are long time American Rhododendron Society members. Both are former Paxton Historical Commission members, with Denis having served for more than 30 years. They have been members of The American Chestnut Foundation since 2002 and in the following year they helped plant the 1st chestnut breeding orchard on state land in Massachusetts at the park. Lois is currently is serving as President of TACF's MA/RI Chapter.