November Meeting:
Note, we are meeting on the 4th (not 3rd) Wednesday this month to avoid conflict with Thanksgiving
Friends or Foe? The Truth About Spiders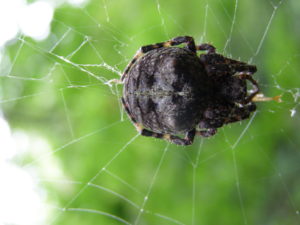 Presented by Dr. Lauren DiCarlo, Westfield State University
Wednesday, November 28, 2018 – 7 pm
Tolman Auditorium, Springfield Science Museum
Dr. Lauren DiCarlo, a restoration ecologist within the Environmental Science Department at Westfield State
University, grew up next to Acadia National Park. As a child who spent a lot of time outdoors, she was terrified
of spiders (all of them) until she studied abroad in Costa Rica and was assigned a research project focusing on
golden orb weavers. Observing the unique orb weaver behavior was entrancing and she was instantly hooked on
spiders, delving into any information available. So much so, that she recently finished a doctorate that focused on
the impact grassland restoration has on beneficial invertebrates (spiders included). In addition to her research that
focuses on restoration, she seeks to educate the public on the amazing benefits of spiders.