September Meeting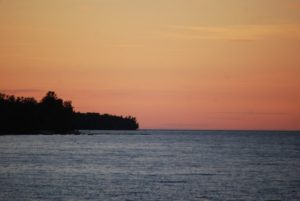 Glimpses of Gitche Gumee

Presented by Tom & Nancy Condon
Wednesday September 20, 2017
7pm
Tollman Auditorium, Springfield Science Museum
Born of the last great ice age, Lake Superior is the world's largest lake, as assessed by surface area. Gitche Gumee,
the Ojibwa name for the lake, means means "the great ocean." This massive lake is the backdrop for fascinating
geological features. Some of the oldest rocks on earth are found on its northern shore in The Canadian Shield,
a great rift valley scars the landscape where once North America nearly split in half, and everywhere there is
evidence of the glaciers that marched back and forth over the past two million years.
Join Tom and Nancy as they explore the places and people of Lake Superior country. We delve into the rich cultural
history from the Native Americans, through the voyageurs, to the loggers and miners who shaped this land. And
we will visit places like the Apostle Islands National Lakeshore, Pictured Rocks National Lakeshore, the Boundary
Waters Canoe Area Wilderness, as well as provincial parks in Ontario, Canada.