February Meeting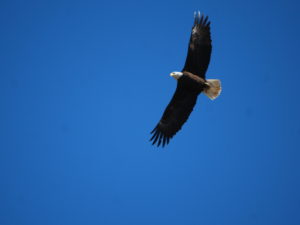 Wildlife Rehabilitation: Eagles, Foxes, and Otters, Oh My!
Hosted Dianne Benson Davis
Wednesday February 21, 2017
7pm
Tollman Auditorium, Springfield Science Museum
Dianne Benson Davis spends her days caring for the bald eagles, red foxes, river otters, owls, snakes, turtles, lizards, ferrets – and a love-struck scarlet macaw named O'Hara – that make their home at the EcoTarium, a science and nature museum in Worcester, Massachusetts. In addition to her vet tech responsibilities, Dianne gives weekly educational lectures about birds of prey and reptiles, introducing live hawks, owls, snakes, lizards and turtles. Dianne will speak to us about her experience raising eight bald eagle chicks at Quabbin Reservoir as part of a Fisheries and Wildlife project to restore the U.S. national bird to Massachusetts. Her book, Eagle One, recounting this experience, will be discounted for Club members. Join us to hear Dianne's tales of encounters with these birds and the other animals she cares for and rehabilitates.