February Meeting

Black Bears of Massachusetts:
History, Research, & Status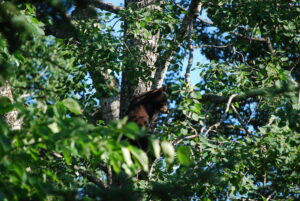 Presented by James Cardoza,
MassWildlife, Retired
Wednesday, February 19, 2020 – 7 pm
Tolman Auditorium, Springfield Science Museum
James E. "Jim" Cardoza received his B.S. and M.S. in wildlife biology from the University of Massachusetts in Amherst. He served on active duty as a Lieutenant in the U.S. Army and is a Vietnam veteran. Jim was employed as a wildlife biologist with the Massachusetts Division of Fisheries & Wildlife (MassWildlife) from 1969 to 2009 as the project leader for the black bear and wild turkey projects, with secondary emphasis on furbearers.
Jim is a member of The Wildlife Society, the American Society of Mammalogists, and the International Association for Bear Research and Management. He is a Certified Wildlife Biologist and was elected a Fellow of The Wildlife Society in 2006. He and Drs. Tom French and Gwilym Jones are working on a book on the mammals of Massachusetts, for which specimens, data, and literature collection began in the late 1970s and active writing in 2016.