November Meeting

The Mystery of the Disappearing Dinosaurs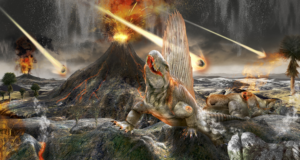 Photo courtesy of Science News for Kids
Presented by Jack Megas & Dave Gallup
Wednesday, November 20, 2019 – 7 pm
Seymour Planetarium,
Tolman Auditorium, Springfield Science Museum
This planetarium program, created by three members of the Naturalists' Club, presents scientific evidence for the events we believe happened 66 million years ago that wiped out not only the dinosaurs but most of life on Earth. This 30-minute program will explore what was happening on our Earth before the meteor hit, including volcanic eruptions and climatic changes.
Afterwards, Jack will take everyone outside the planetarium to the meteorite display in Astronomy Hall and introduce this fascinating collection of meteorites millions of years old.