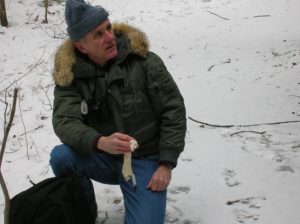 Naturalist, astronomer, historian
Dave was born and raised in the wilds of Northern Michigan.  Nature was his classroom and his love of nature grew from that experience.
Moving to New England in the 1960's, Dave explored the New England forests and its rich history.  He also loved the night sky and is inspired by its beauty.
He joined the Naturalists' Club of Springfield in the 1980's and became President of the club in 1988.  Leading many field trips, he enjoys sharing his love of nature with everyone.  He also leads historical and natural history trips for many nature organizations throughout New England.
Dave also works with the Springfield Museum of Science as a planetarium Educator.